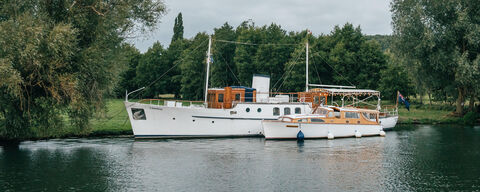 « Extras
Moorings
On the beautiful banks of the Thames, our Moorings are the most unique way to enjoy a weekend at Rewind. If you don't have your own boat... then you can still arrive in style by taking a River Taxi ride down the Thames to our entrance gates!
There is no better way to experience Rewind Festival than by boat. Enjoy stunning views of Henley-on-Thames as you sail down the winding river to Rewind Festival. Our Moorings are the most unique way to experience the festival allowing guests to moor just for the day or over the weekend!
To apply for a mooring spot, please download the application form and send to admin@rewindfestival.com with all the relevant information filled in. Once your mooring application has been confirmed, payment must be made within 7 days of being notified to secure your spot.
Please read the Moorings 2023 Terms and Conditions here.
PREMIUM MOORINGS - SOLD OUT
Premium moorings allow you moor over the weekend from Friday noon - Monday noon.
DAY MOORING - SOLD OUT
Day Moorings allow you to moor for the day on either Saturday or Sunday, from early morning until midnight.